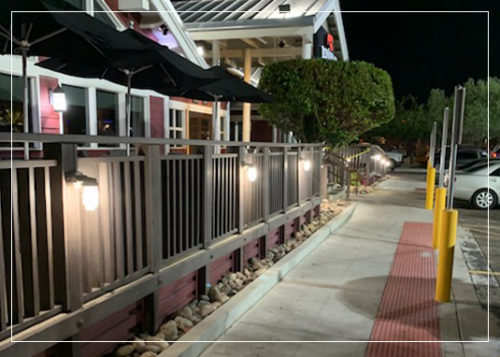 THE GENESIS ADVANTAGE.  
Ceilings will never be the same. The new Genesis Lighting Solutions' luminaires transform ambient lighting into an exquisite balance of refined appearance and efficiency. Our fixtures produce perfect light to fill any space and offer:
Longest rated lifetime LED troffer on the market today
A diversified product portfolio with optional color temperatures and power output
Highest lumen output LED troffers available from any manufacturer
Excellent quality white light promoting reduced glare and uniform light distribution
Optimized product performance with one of the best warranties
High volume pricing tailored specifically for commercial retail applications
LIGHTING DESIGN, SPECIFICATION SALES, LOGISTICS & THE ASSURANCE OF A 5 YEAR PARTS AND LABOR WARRANTY
OUTDOOR AREA LIGHTING
Genesis Lighting Solutions has harnessed the power of green technology to create energy efficient and optically superior outdoor area lighting systems. High efficient lighting combined with the long life of LEDs offer significant longer life, energy savings maintenance costs compared to traditional metal halide and high intensity discharge lighting sources.
GENESIS RETROFIT LED LAMPS
The bright white radiance of Genesis Lighting Solutions' LED replacement lamps is not just something you see, it's something you feel. Whether you're in retail, hospitality, office or any commercial business, we have an entire family of PAR and T8 replacement lamps that will enhance your environment and create a positive and memorable experience for your shoppers, clients, guests and employees. You can expect to see significant energy savings and reduced operating expenses the moment you swap out inefficient lamps with Genesis Lighting Solutions' LED replacement lamps.